Podium Accessories include Pulpit & Lectern Covers, PA Systems & Valet Key Boxes
---
---
---
---
---
---
---
---
Podium Covers & Lectern Accessories - Add-Ons for Portable Speaking Equipment & Furniture
Our line of podium accessories features lecterns add-ons that improve the functionality of speaking stands. These additional components can also make life easier for lecturers, hostesses, valets, teachers or public speakers in any environment. Our extensive podium accessories selection includes protective coverings for pulpits and stands, additional lighting fixtures, PA systems and equipment and locking lectern-style keyboxes for valet parking and customer service stations. Just as our speakers' stands and lecterns come in a variety of styles to match different needs, add-on items are available here to complement and improve the many different uses. Versatile podium accessories, such as Public Address system components, allow even the most simple lectern or hostess station to be used in conjunction with high-tech equipment. Lights, microphones and security devices ensure that portable fixtures used at meetings or trade shows have all the functionality needed to captivate listeners.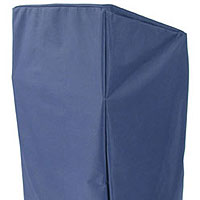 What are some of the available add-ons for public speaking furniture?
Podium accessories such as stain and spill-resistant covers help protect against scratches, dents, dust and other damage.
Microphones, speakers and amplifiers and other PA equipment turn even the most simple speakers' stand into a public-speaking powerhouse. Wireless mic systems are also ideal for use with heavy wooden pulpits that are fixed in place.
Even the most lightweight modern lectern can benefit from lighting accessories for reading stands. Presenters and orators or all kinds frequently use written notes or electronic tablet displays to aid memory. Public speaking furniture accessories such as LED lectern lights increase visibility to let speakers focus on their message and not their speech outlines.
Add-on security accessories such as cable locks keep mobile presentation stands safe in even the busiest high traffic areas. Portable equipment makes it easy for stands to be used in different locations. This is imperative for lecterns and reading stations that travel for use at trade shows or other off site events.
Specialty uses require specialty equipment, and our selection of valet key boxes are designed to keep customer access materials safe and organized. Multiple sizes and differing lock configurations allow the security lockboxes to be matched to the exact needs of parking areas, hotels, restaurants, clubs and more.
Image, or how things and people are presented, is an important aspect of public speaking. From dust covers to keep lecterns and presentation furniture in perfect condition to replacement graphics panels for outdoor lecterns and key cabinets with hooks, our speaking furniture accessory line is carefully selected to ensure that presentations, presenters and even facilities look and perform at their best. In addition, electronic PA system add ons, lights and microphones help increase the reach as well as the ease of use, of our public speaking furniture and equipment.